PREVIOUS EXHIBITIONS


Napa Mustard Festival Art Exhibtion, Chateau Greystone
Aroma Cafe, San Rafael, California
St. Suprey Winery, St. Helena Group Exhibit
Au Croquant Fleury, 39 avenue Wilson, Lézignan, FRANCE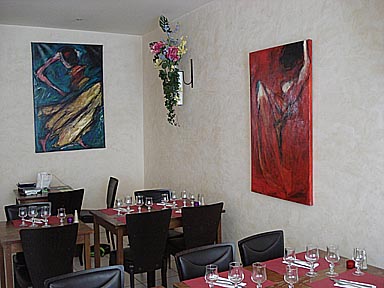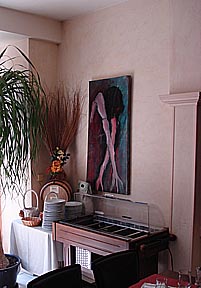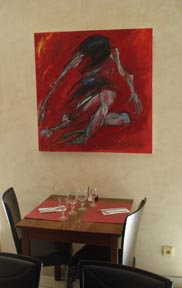 Médiathèque Municipale Charles Cros, Fabrezan, FRANCE
Futailles 1907", Espace Gibert, 24 blvd. Marx Dormoy, Lézignan, FRANCE
"Voyages", Association Espace Gibert, 24 blvd. Marx Dormoy, Lézignan, FRANCE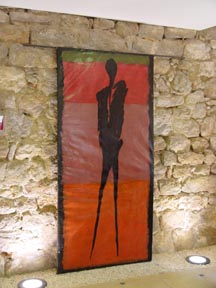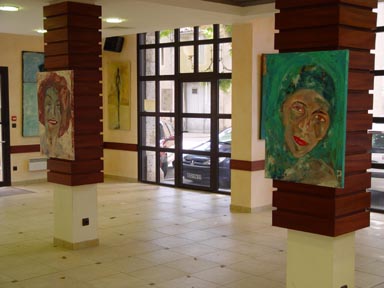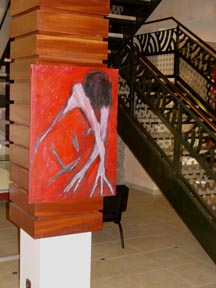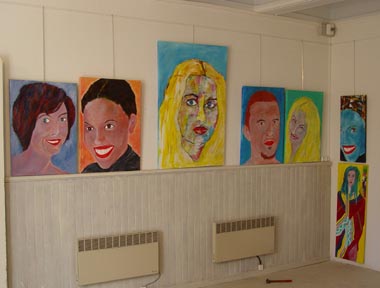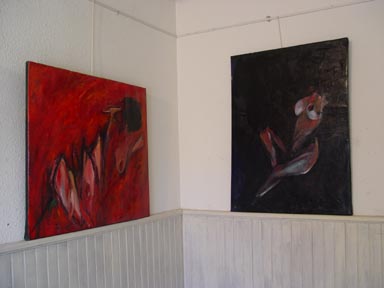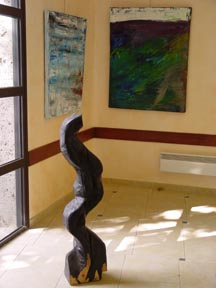 Cafe de la Paix, Thezan, FRANCE
"Le Feu", Espace d'Art, Rennes les Bains, FRANCE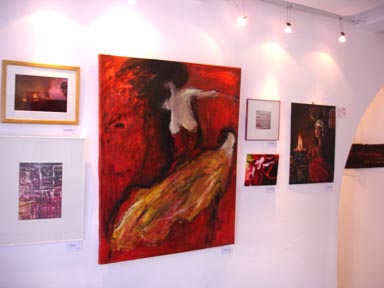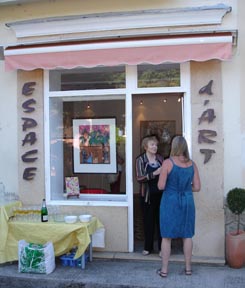 Polyclinic de Languedoc (NarboScan), Narbonne, FRANCE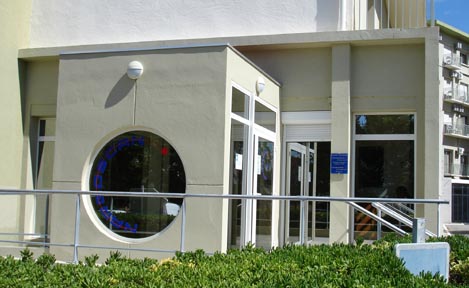 Maison and Jardin (Contemporary Furniture Store), Lezignan, FRANCE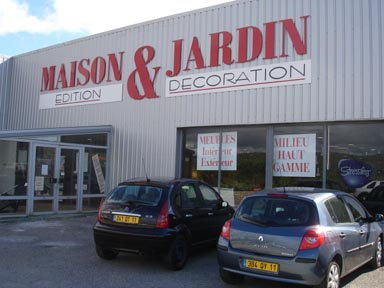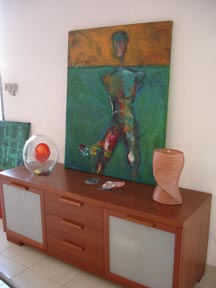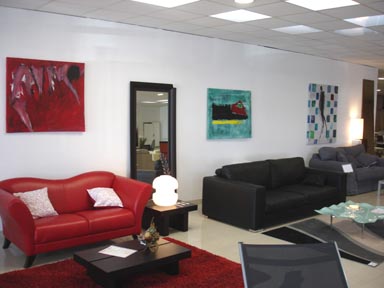 Salon d'Autumn, Claira, FRANCE
Association Culturelle Homps Nostré Païs ("La Femme Rêveuse et la Dance") (Homps, FRANCE)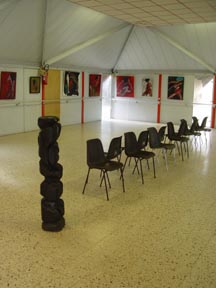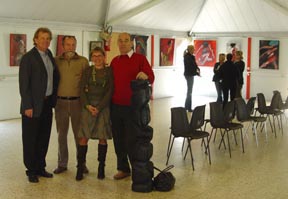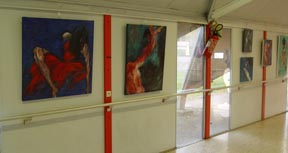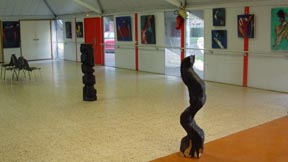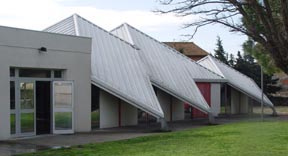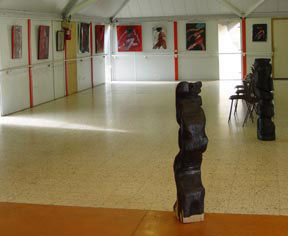 Alliance Francaise, "La Femme Revée" (The Dreamed Woman) (San Francisco, CA)
Waterbarge Restaurant and Gallery "Dance and The Fury" (Vallejo, CA)
Gallery Saccade "Arte Jondo: Rhythm and Motion" (San Diego, CA)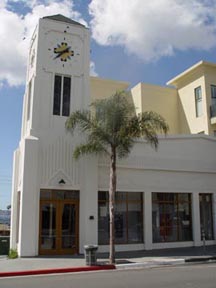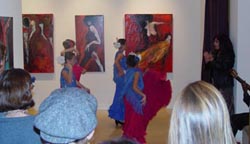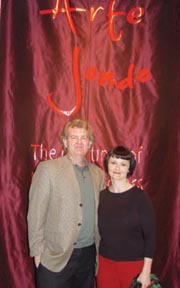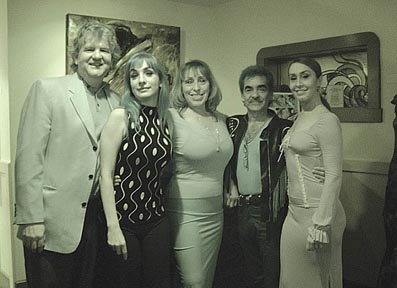 MAC 21 International Contemporary Art Fair, Art Competition Selection (Marbella, Spain)
Anti Violence Art Project "FacingFaces-Violencia?ya basta!"" at the Museo de Arte e Historia (Cd. Juárez, Chihuahua, México)
Set Decorators Society of America Marketplace at Universal Studios, Los Angeles, California
MAC 21 International Contemporary Art Fair, Art Competition Selection (Marbella, Spain)
Sinclair College, Dayton, Ohio Exhibition
New Age Expo, San Francisco, California
Anti Violence Art Project "Face to Face" at the Museo de Arte e Historia (Cd. Juárez, Chihuahua, México)
Artisans Gallery, Mill Valley, California "Art, Science and Technology" Group Exhibition
MAC 21 International Contemporary Art Fair, Art Competition Selection (Marbella, Spain)
Barnes and Noble.com Limited Edition Prints
The Source Fine Arts, Kansas City, Missouri
Napa Valley Wine Auction-Wine Label Design For Franciscan Estates Winey

COMMISSION PROJECT: 2001 Napa Valley Wine Auction (Franciscan Estate Vineyards)
Three Wine Label Designs For Three 3-Liter Wine Bottles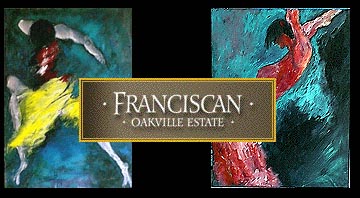 Marques:

Thank you again for letting us use your art in our auction lot. Our lot sold for $50,000+-well beyond our expectations.

Christine Lilienthal, Director of Creative and Merchandising Services
Franciscan Estates


COMMISSION PROJECT: Barnes and Noble.com (BuyEnlarge.com)
Print On Demand Posters and Giclee on Canvas Reprints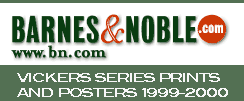 Cleo Productions Headstead Gallery Competition, Stone Mountain, Georgia
Euro Art Channel EXPOART, Cologne, Germany
MAC 21 International Contemporary Art Fair, Art Competition Selection in Marbella, Spain,
Bella Salon Sculptural Garden, Benicia, California
Scottish Spring Internet Exhibition, Edinburgh, Scotland
Gloria Ferrer Champagne Cellars, Sonoma, California
"The Art of A Community", Arts Benicia Gallery, Benicia, California
Mark West Vineyards, Healdsburg, California
"Recyclized Respite" Interior Design Showcase, South San Francisco, California
City of Lafayette Arts Festival
City of Millbrae Arts Festival
Sonoma Valley Arts Festival
City of San Anselmo Arts Festival
Arts Benicia Open Studios Program and Exhibit
"The Art of a Community", Arts Benicia Gallery, Benicia, California




MEDIA EXPOSURE



MARQUES VICKERS..."Rhythms In Color"

While Marques Vickers came to art a little late in life, he has all the passion an commitment necessary to be a successful artist. His amazing ability to articulate the human figure decries his claim that he has never taken a life drawing class. His work not only expresses movement, it contains energy.

Like snapshots in time the figures are captured either in contorted positions as they dance or while relaxing as they regain their strength. Yet, they all hold that spark of life that makes the difference in good work.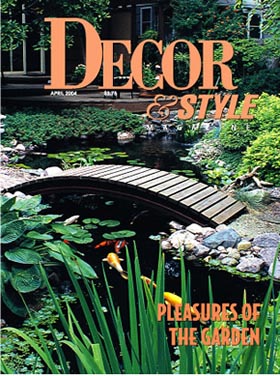 We have all seen figures that are perfectly rendered yet have no real sense of life inside them. Marques' work is exactly the opposite. Unquestionably these are living people, filled with energy and a real lust for life, even when in repose.

Marques grew up in Vallejo, just an hour from San Francisco in the beautiful California wine country. He had an adventurous nature and was drawn to places unknown. With his eye on the travel industry, he took his BA from Azusa Pacific University in business administration, thinking business a good background for any occupation.
He spent several years in southern California, first working in community redevelopment, then the travel industry, and then a year in France upgrading his language skills and trying to find a job. No matter his confidence, skills, or experience he found all doors closed to an outsider. Disappointed, he returned to Vallejo and opened and operated his own travel business for 17 years. Squeezing as much travel time as he could into his busy life, he developed a passion for seeing out-of-the-way places that offered a novel experience. Currently he would love to travel to the Middle East, if it were possible, to experience the change that is going on there.

As sometimes happens in life, Marques discovered in 1996 that fate was giving him the opportunity to re-determine his future. Europe was also experiencing tremendous upheaval with the Berlin Wall coming down and the Cold War ending. He had always been interested in communities in transition and here were entire states and cultures in transition. He decided to spend the summer traveling through Eastern Europe, which proved to be the perfect place for him to experience his own transformation. It was a fascinating experience to see how people adjusted to change while maintaining their dignity and a quality of life that they both wanted and needed to survive. Their strength and courage inspired him to trust his own ability to reshape his life and future.

He saw many interesting cities that summer including St. Petersburg but the real life-changing experience came when he was visiting his sister, Lisa, who works in the Diplomatic Corps in Helsinki. While taking in the many wonderful museums around the city, he saw a sculpture titled 'Sibelli' and was suddenly struck with the idea that he could do that. It was a mystery to him where the idea came from but, when he returned to Vallejo, he enrolled in a welding class, began reading artists' biographies, and studying art theory. Within six months he had sold his condominium and bought a warehouse where he slept in the loft but had ample room to both paint and do sculpture.

His father, John Vickers, an accomplished watercolorist and teacher, was surprised at this sudden change in direction but was pleased to see the passion and commitment Marques had for what he was doing. Until he recently passed away, they had many long discussions about art but their ideas differed so dramatically that their conversations never came to a meeting of the minds.

Continuing to study the concepts and ideas of other artist Marques says, "Innovators freely admit many of their ideas are based on the masters. Work isn't duplicated; the ideas are integrated into your own expression and that work becomes your own identity. It is the highest compliment."

Marques paints with acrylics on canvas but he finishes his work with resin to accentuate the vibrant colors. He figures he has about 20 years worth of ideas to paint and it is one of these ideas that inspires him to start a new piece. He doesn't sketch, he just starts painting the position of the dancer and builds on the form, defining the shape and filling in the background. He rarely gets it right the first time and so re-paints in layers until he has the right balance of movement and energy supported by empty space. To maintain perspective he needs to step away and will often put a piece aside, working on several paintings at a time. He can't explain what he is doing, he often doesn't understand what he is doing, he just works it through. Any attempt to verbalize it would dilute the experience. He just has to trust the catalyst that makes it all work.

Besides painting 20 to 30 hours a week, Marques still designs specialty tours for old customers, lectures to various venues on business management and to artist groups on how to work with galleries, and continues to dabble in exporting local wines and sporting goods to Europe.

Marques loves having his work in the elegant Gallery Saccade. The building is a perfect example of successful urban renewal which he maintains, has many similarities with contemporary art. Neither is re-inventing anything, only adding to a long history. The best work builds the new while respecting what already exists. It creates a perfect atmosphere for contemporary collectors who are well educated, not necessarily rich, but have good taste, appreciate fine things, and enjoy the visual stimulation of contemporary expression.

Marques current show is up until April 10 and then a portion of the work will hang with a group show through May. Gallery Saccade is located at 1702 Kettner Blvd in Little Italy, its hours are 11am to 6pm, Wednesday through Saturday and by appointment. Phone (619) 546-9169.



Alliance Française Gallery San Francisco Hosts Vickers "Dreamed Woman" Exhibition

The San Francisco Alliance Française Gallery will be hosting an exhibition of paintings and body sculptures by Bay Area figurative artist Marques Vickers entitled "La Femme Rêvée (The Dreamed Woman)", July 1-31, 2004. The gallery located at 1345 Bush Street in downtown San Francisco will host an opening night reception for the artist open to the public on July 1st from 6:00-8:00 PM.

A familiar theme in Vickers work, the dreamed woman is a synthesis of dance movement and reflective poses through compositions constructed from within the artists imagination. "The finished works are not in themselves portraits of woman but rather symbolic representations of femininity," notes Vickers. "My women figures exude strength, whether its is exhibited in transitional dance movements or in a provocative straight forward look. They are not women to be exploited rather respected for the passionate depths they represent and exude."

The exhibition will feature approximately twenty paintings and four full-bodied Neo-Formalism sculptures. "The three levels of the gallery present an intriguing challenge of color layering and depth to the display. I want the viewer to be drawn into the work as they descend each staircase just as the imagery is intended."

The Alliance Française exhibition will be Vickers third one-man show of 2004 following presentations at the Gallery Saccade in San Diego and Waterbarge Restaurant and Gallery in his hometown of Vallejo. HIs work has been exhibited and profiled internationally and is part of several individual, public art and corporate collections. His work has been selected for the past four consecutive years for inclusion at the MAC21 Contemporary Art Fair in Marbella, Spain, the second largest modern art fair in that country as part of an international competition. He is also the author of the book "Marketing and Buying Fine Art Online: A Right-Brained Guide to a Left-Brained Industry" which has served as a ground breaking marketing publication in the fine arts industry which he has lectured and conducted seminars on nationally.

Born and raised in Vallejo, California where he currently lives and works, Vickers was a 1979 graduate of Azusa Pacific University and has completed postgraduate work at the University of Bourgogne in Dijon, France. An entrepreneur before becoming an artist, he has initiated and currently manages several business enterprises including ten+ art industry websites. Several of these self-produced websites have been the recipient of Golden Web Awards from the International Association of Web Masters and Designers (IAWMD).



San Diego's Gallery Saccade Hosts Vickers Flamenco Dancers

San Diego's Gallery Saccade will present an exhibition of Northern California artist Marques Vickers Flamenco and Figurative dancer series entitled "Art Jondo: Rhythm in Color", February 27-April 10, 2004.

Vickers' dancers are a contemporary articulation of the human figure integrating abstract color fields with intense brushstrokes reflecting
the movement and grace of a dancers rhythm. "I look at my dancers (predominately Flamenco and Modern) as an extension of the Bay Area Figurative movement of the late 1950's and early 60's...with motion," notes Vickers. "My compositional influences include Bay Area icons Manuel Neri and Nathan Oliveira and more recent, European painters Concha Benedito and Luciano Castelli."

"The movements of dance are successive brushstrokes from the color palette. The passion radiated to the audience is expressed by the depth and intensity of each stroke. The integrating of color represents each transitional passage formed by the motion of each successive step. My intent is to blur the sequence between positioning and transitioning the demands of a well executed dance sequence".

Vickers' work has been exhibited and profiled internationally and is part of several individual, public art and corporate collections. One of his works has been selected annually in open competition for the past four consecutive years for exhibition at the MAC21 Contemporary Art Fair in Marbella, Spain, the second largest modern art fair in that country. Born and raised in Vallejo, California where he currently lives and works, Vickers was a 1979 graduate of Azusa Pacific University and has completed postgraduate work at the University of Bourgogne in Dijon, France. An entrepreneur before becoming an artist, he has initiated and currently manages several business enterprises. His numerous self-produced websites have been the recipient of Golden Web Awards from the International Association of Web Masters and Designers (IAWMD). He is a published writer and his biography has been included in the Marquis Publications LLC (New Providence, NJ) "Who's Who In America" directory since 2003.

The exhibition runs from February 28 through April 7, 2004. An artist reception will be held on February 27, 2004 from 7:00 PM. to 10:00 PM. The Gallery Saccade is located at 1702 Kettner Boulevard in San Diego's "Little Italy" section. The gallery is open Wednesday through Saturday from 11:00 a.m. to 6:00 p.m., and by appointment. For additional information contact Gallery owner Sharon Haluska at (619) 546-9169 or via e-mail: gallerysaccade@lycos.com.

ABOUT "Arte Jondo"
Flamenco is a musical phenomenon that, in spite of its popular roots, survived different periods and trends, and transcends borders and nationalities. It is a living art which has drawn on all kinds of different musical trends without losing its own personality. However, its main characteristic is its relationship with the audience, which participates in an emotional and heartfelt manner. Even when it is the first time that someone approaches this discipline, their feelings are stirred, and it reaches their heart. The distinctive, mysterious quality that makes this happen is known as duende. This is why flamenco is also known as arte jondo (deep art), because it goes deep into one´s feelings. There are also persons who call it arte gitano (gypsy art) due to the influence that this ethnic group had on its birth and development.
Extracted from www.deflamenco.com



California Artist Relocates Studio and Lifestyle to South of France
Northern California born and raised artist Marques Vickers followed his dream. He and wife Claudia, sold their four-bedroom Vallejo house, left their secure careers and relocated to the wine growing village of Fabrezan, in the Languedoc-Roussillon region of southern France in June of 2005.

"Our decision was by no means impulsive," notes Vickers, "we'd discussed the idea for a few years but economics was always our barrier. When the northern California real estate market went ballistic, we cashed out without hesitation. We choose Fabrezan for its close proximity to the Mediterranean Sea and historic Roman cities of Narbonne and Carcassone."

The couple were not motivated exclusively by the allure of an alternative lifestyle, but also an appreciating southern French real estate market. The market for refurbishing ancient stone houses within France is currently dominated by Northern Europeans (English, Dutch, German, Danish, Swedish and Flemish) buyers seeking inexpensive second homes and summer residences.

"The Languedoc section and particularly the Aude region where we live offer incredible value and the opportunity to own centuries old houses of character," observes Vickers. "The housing market is presently cooling amongst foreign buyers, but pricing is still significantly reduced in comparison to neighboring Provence and the French Riviera."

"What differentiates the Languedoc is the authenticity and quality lifestyle seemingly absent from the rest of Southern France, due to increased congestion, urbanization and industrial development. The idealized pastoral Provence disappeared a decade ago, but it remains in the Languedoc, for now."

Vickers shipped the bulk of his paintings and art supplies upon his relocation and has found a receptive audience for his work. He paints in both his home studio and in front of a local 12th century tower, currently serving as a wine production facility.

"I contracted two Spring 2006 shows this week," said Vickers, "and have several exhibitions pending. The Languedoc is a less developed art market than the San Francisco Bay area, but has a centuries old tradition towards the arts. There is a vibrant following attached to the arts even in small villages and a pride of continuity very contagious."



Allworth Press Releases "Marketing and Buying Fine Art Online"

The Internet has changed the landscape of how the art world conducts its business. In his new book MARKETING AND BUYING FINE ART ONLINE, professional artist and collector Marques Vickers walks artists, galleries, collectors, art students, and resellers through the process of navigating this new territory and describes the abundant opportunities available. "The two most accessible and immediate assets an artist can and should be cultivating online are a Web site and an expanded selling network," says Vickers. "This sales network should include Internet auction sites, affiliate partnerships, business and consumer exchanges, barter services, direct mail, licensing outlets, virtual art galleries, and portfolio
listings."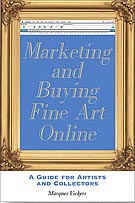 According to Vickers, the art world is hurtling headfirst into a new era of artistic free agency, more informed consumer comparative pricing, and expanded resource data. This book is an attempt to demystify the many misconceptions and false assumptions about the art industry and the Internet.

"The traditional physical art gallery as the industry has known it is struggling to maintain an existence faced by escalating rents and rising expenses of promotion, staff, logistics, delivery, insurance, and security. The conclusion for both artists and seller seems inevitable. A shift toward online sales, distribution, and promotion is essential to long-termsurvival."

Marketing and Buying Fine Art Online details how to set up and run an effective website geared to attract viewers, promote sales, and establish long-term, credible presence. It is filled with over 1,200 Internet outlet resources to help with the development, designing, hosting, monitoring, registering, domain name listings, chatlines/blogs/message board services, search engines, currency converters, bidding services, media mailing list services, artists reference resources, directory of art fairs and festivals, art workshops, online art and media publications, auction houses and more. It offers easy to follow advice and information for readers not fluent in the rhetoric of the art world on computers.

And it elaborates on the winning strategies, marketing tools, and efficient tactics the most popular art and business websites employ to generate links, media exposure and buyers.

This valuable volume also details the diverse range of emerging sales trends and opportunities on the Internet for traditional, original, and reproduction artwork. In addition, it presents evolving opportunities for licensed products, greeting card publishing, print on demand Giclees, barter, auction exchanges, motion picture set decor, e-commerce stores, virtual art galleries, affiliate program, and many others.

Marketing and Buying Fine Art Online is a roadmap to future trends and selling outlets not traditionally embraced within art world circles. The stereotyped mythology about artists, galleries, and auction services is undergoing a substantial reexamination. Not only are the rules changing, so are the rule makers.

Marketing and Buying Fine Art Online: A Guide for Artists and Collectors can be found in better bookstores, or it can be ordered directly from the publisher by calling 1-800-491-2808, or by going online to www.allworth.com where you will find a full description, a table of contents, and reviews. Distributed to the trade by Watson-Guptill Publications: 1-800-451-1741.

######

Praise for Marketing and Buying Fine Art Online
"Packed with valuable information and insights—from the basics of Internet marketing to the plethora of opportunities cyberspace offers artists." -Caroll Michels, Career Coach, Artist-Advocate, and Author of How to Survive & Prosper as an Artist

"This advanced guide to the World Wide Web for both buyers and sellers of art has everything you'll need to know to go all the way on the Internet with your art business."-Constance Smith, Author of Art Marketing 101

"An important resource for marketing and buying art on the Internet. A real treasure trove for artists and collectors."-Markus Kruse Ph.D, President of World Wide Arts Resources / absolutearts.com

"There's a new game in town and it's called 'The Internet for Artists.' Marques Vickers brilliantly explores the opportunities in this up-to-the-minute guide.Artists better pay attention because it's the biggest thing since the invention of the paintbrush."-Robert Genn, www.painterskeys.com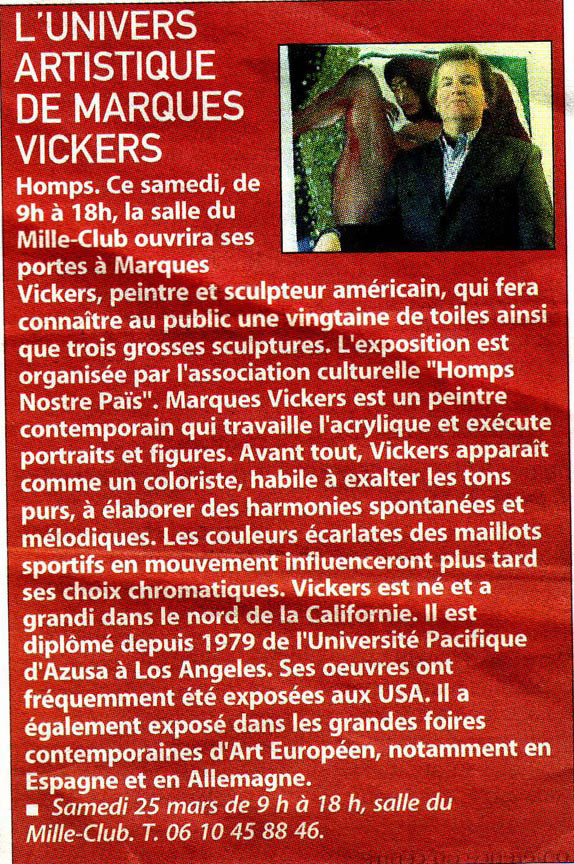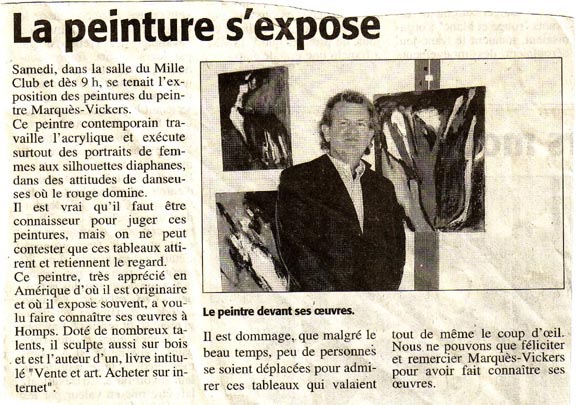 "Exploring the Web"-Excerpts from his book "Marketing and Buying Fine Art Online"
Artist's Magazine February Issue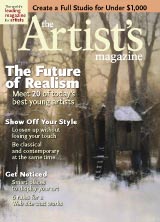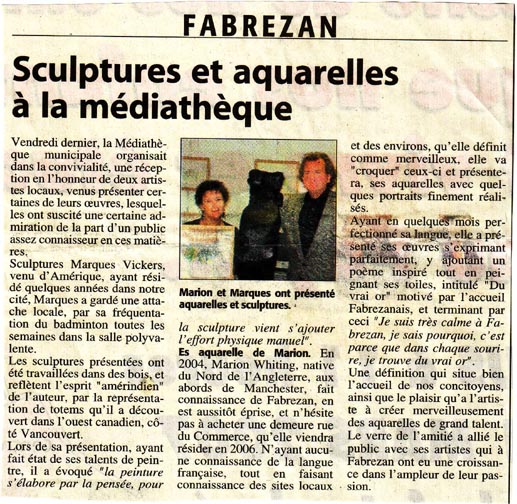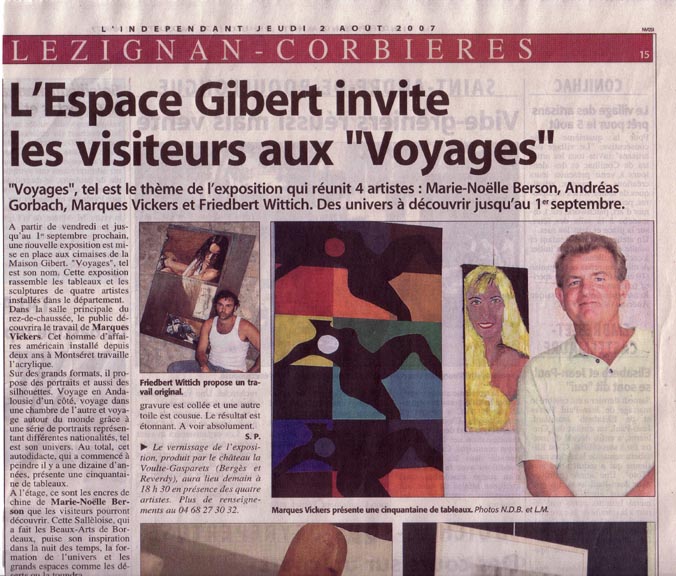 Mentions:
Instair.com: "2004 Winter Gallery: Nude Expressionism" (December 2004 Issue)
The Art Fix, Issue 35: Marques Vickers (October 2004 Issue)
Ranch and Coast Magazine "Marques Vickers Exhibition-Gallery Saccade" (March 2004 Issue)



A Hunk of Steel, A Touch of Wood

Although the original inspiration for Marques Vickers' totem sculptures came during a trip to Scandinavia three years ago, his work has continued to evolve after a subsequent trip to Europe.

While visiting his two daughters in France last year, Vickers says he realized just what his large-scale steel sculptures needed-a touch of wood, giving some color to the pieces that incorporate recycled items.

"It was in France I had the realization that what I was doing was unfinished," says Vickers. "When you're surrounded by great art, you hope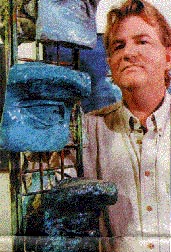 a little rubs off."

Upon returning to his Benicia studio in the old arsenal, Vickers started his mixed-media iconic totems. Vickers coined the "iconic totem" phrase to describe his work, adding, "Every artist looks for their unique niche."

His sculptures incorporate multicolored patina and painted Douglas fir bases with metal components he finds in salvage yards. The wood receives a complex coloring before being sealed in resin, which gives the totem a stone-like quality, says the artist.

"As I started doing these, I found I liked the results more and more," says Vickers. "Art is the freedom to experiment."

The recycled portions of his iconic totems come primarily from machine parts that would otherwise be melted down.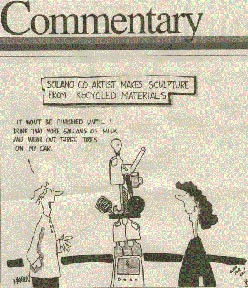 "I'm a prisoner to what I can find," says Vickers with a laugh, "There's no question I look at a piece of junk and see it differently than other people."

His totems are up to 10 feet tall and have been shown extensively throughout the Bay Area. Some of his favorites will be on display in the tasting room of Gloria Ferrer Champagne Cellars in Sonoma.

"I like people to see my work," says Vickers. "If it is in my studio, the number of people seeing it is limited."

He says he wants his pieces to provoke reaction from viewers, as that will often lead them to focus on other issues. Vickers admits to eavesdropping during an exhibit when his totems are on display.

"It's a rush," he says. "I'm not concerned about whether (my art) is liked or not. It has already met my critical eye."

Vickers acknowledges that he is his own harshest critic, and that he has redone a number of his totems sculptures before he is satisfied with the final product.

Naming the pieces allows his to have some fun though. Some of the names included "A Bulbous Snob" and "Coping with the Modern Delirium."

Vickers' works have been displayed both inside and outside, and he notes that a half-dozen totems, which were on display outside last summer, withstood the weather.

The Vallejo native says he appreciates the economy of warehouse space in the old arsenal and the quiet nature of the area, especially when he works in his studio at night.

"You have fewer distractions, which allows you to focus on your work," Vickers says.

The artist, teacher and entrepreneur says he never envisioned himself in this endeavor, though he admits his life was definitely missing a creative outlet.

His iconic totems-as well as his acrylic paintings-seem to have filled that void.




Works of Art.Com?

While the basic Internet art buyer may lean toward vintage Grateful Dead posters, that is likely to change the more twenty something millionaires come out of the software explosion, said a Benicia artist who started his own Web site.

"A big shift is going on in art buying with the wealth being distributed among the younger group like never before, said Marques Vickers, a St. Patrick-St. Vincent High School graduate who teaches computer and business courses at the Vallejo school while also operating a sculpture studio in Benicia's Industrial Park.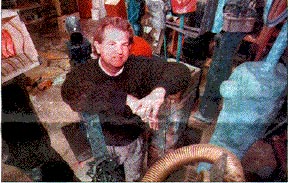 "Traditionally, it's been an older audience that has put their money into art, Vickers said. "I think that's changing radically. This new group of higher income earners who support the fine arts is getting younger."

And, noted Vickers, since they've already been raised on the Internet, it's only natural that fine art goes online. Save time and money, though with the new breed of youth with loot, the clock is more important.

"Everyone is absolutely time-pressed," Vickers said. "Folks in the fast lane would maintain that it's the stress of their occupation. At this point, money is not the issue."

Only it isn't just good for the buyer, it's good for the artist, said Vickers.

"The artist is more empowered to negotiate price," Vickers said. "Right now, the artist leaves his work with the gallery. It's out of their hands. The gallery may or may not consider the artist and get his OK. I think online, the artist will be more involved in the pricing."

Just getting into a gallery can be a humiliating experience, Vickers said.

"The traditional interview process artists must endure to be exhibited or even considered by an art gallery is tedious, condescending and oftentimes expensive for the artist, he said. "Any legitimate alternative to this process will be welcomed by artists."

Though art galleries will be forced to change, they aren't about to become extinct, Vickers said.

"There are still the older wage earners where computers are still a mystery in some respects, he said. "It is an aging population and they're still going to be buying too. And many buyers still prefer a certain hand holding when they invest in artwork."

Though his Web site features his own work, Vickers has added links to other artists, including Benicia's Wayne Kohler.

"Aside from promoting my own work, the site has to become relevant for return visits, " Vickers said, adding that he gets about 2000 hits a week.

Vickers believes his lively Web site-that includes his published poetry-attracts the public more than other sites whose "chief liability is that they are dull, static and not terribly informative about the artist. A Web site should be a personal expression."

Vickers believes art investors won't need the warm-and-fuzzy feeling of actually seeing the art before purchase. Many automobile Web sites, he noted, are doing well and car buyers are known as tire kickers when it comes to actually buying.

"There is that element of the public that will always want to see and touch," Vickers said. "But it's not necessarily going to be the majority. How are things going to be in 10, 15 or 20 years?"

Vickers said people buy art either by name-recognition or to color coordinate with a room in their house. Going online is another tool to keep one's name out there, he said.

"You have to cultivate your name," Vickers said, "Because it is a name game. People are impressed by the fact they own a given name, particularly if they caught his on the way up."

And if you're an artist that doesn't have Internet savvy, "you'd better find someone who is," Vickers said.

Just as Amazon.com has altered book stores (basically putting many small ones out of business), Vickers believes art online will do the same to galleries.

"You go to San Francisco and see 40 boutique galleries in a downtown cluster," Vickers said. "Those numbers are going to be thinned unless they have a real focus group to sell to. They're not going to be able to survive. I don't see how a gallery can afford San Francisco rents, which are among the highest in the world."

Though fine art buyers may be a "hit" on Vickers' Web site, he doesn't see any instant success.

"People on the Internet site tend to bookmark and might come back later," Vickers said. "Unless they have a room to fill, they might do it more quickly. But a collector will think about it."

There is an ever-growing list of online art dealers, including PaintingsDirect.com that was recently included in a front-page story in USA Today.

"A lot of these guys are setting up these businesses, hooking into an artist who knows he has to be on the Internet," Vickers said. "And they'll charge the artist up to $2000 to be on one Web Page."

Still, Vickers said, "It will be a crowded field for a while."




Barnes and Noble.com Distributes Series of Vicker's Posters and Prints

Barnes and Noble.com recently began licensed distribution of a limited edition series of 1999-2000 Posters and Prints created by Northern California Figurative artist Marques Vickers. The print on demand works are available for ordering in several formats on the Barnes and Noble website in conjunction with Philadelphia based publisher BuyEnlarge.com, a company with BN minority ownership.

For Vickers, this agreement becomes an additional commercial licensing agreement following his recent wine label design commission with Franciscan Estates Winery in conjunction with the recent 2001 Napa Valley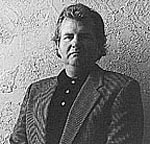 Wine Auction. Three of his images also recently appeared during May and June with a Tricom Pictures television production aired nationally.

Vickers, who recently authored an e-publication and currently publishes a monthly e-magazine entitled "Selling Art On The Internet" (www.ArtsInAmerica.com) currently markets his Figurative paintings, sculptures and photography on over 30+ Internet auction, B2C, B2B and business exchange sites. He was recently selected as one of winning entries for the second consecutive year in a artist competition sponsored by the MAC 21 International Contemporary Art Fair in Marbella, Spain, July 18-22, 2001 (www.mac21.com). The annual fair is the largest showcase of contemporary international artwork in Spain featuring some of Europe's most renowned galleries and art organizations.

"This marketing opportunity with Barnes and Nobles provides a broader exposure base for my earlier work," noted Vickers, "and I'm hoping to expand this series of prints and posters to incorporate my newer dancing and Flamenco centered images".



Addressing the Subtleties of Buying Fine Art Online

A new guide and source e-book for potential buyers of fine art via the Internet was released by Marquis Publications entitled "Marketing and Buying Fine Art Online: A Right-Brained Guide to a Left-Brained Industry." The 280-page publication (ISBN #9706530-2-6) authored by California Figurative Artist Marques Vickers is an attempt to demystify the intricacies of sourcing visual artists, artwork and art resellers for art buyers and provide commentary on the evolvement of the medium as a marketing distribution and sales vehicle. Detailed information on the publication which retails for $19.95 USD can be obtained by visiting the website www.FineArtBuyer.com. Formats for the compact disk e-book are in Adobe pdf and Microsoft Word.

"A Right Brained Guide" features over 1200+ website references in seventy-five categories making it an indispensable guide to understanding and maximizing Internet usage. Among the referenced categories include artist and collector reference and research resources, website development services, direct mail sources, licensing outlets and agencies, consumer and business auction exchanges, barter outlets, domain name registration and reseller service, e-commerce services, search engines and indexes, online media publications, payment services, delivery, website hosting and troubleshooting services. legal and appraisal outlets, and virtual fine art marketplaces.

"Forget for a moment the traditional assumptions regarding the fine arts industry," notes author Marques Vickers, "the stereotyped mythology about artists, galleries and auction services are undergoing a substantial reexamination. The rules are changing, as are the rule makers." As a sequel to Vickers' initial 2000 e-book "Selling Art On The Internet", the publication is written from the dual perspective of a professional visual artist and collector. His commentary is oriented towards an emerging breed of Internet savvy artist entrepreneur and informed fine art buyer. Slicing through the traditional marketing and investment rhetoric of the art world, his commentary illustrates present and future sales and buying trends and opportunities for both original and reproduction artwork.

Vickers is becoming a recognized figure in the visual arts industry for his advocacy of the Internet as a marketing vehicle for visual artists and galleries. He is a regular columnist with the nationally distributed trade publication Art Calendar Magazine and conducts seminars on buying and selling artwork online throughout the United States.

He recently received the distinction of inclusion into the prestigious 2003 "Who's Who In America" publication and has won three Golden Web Awards from the International Association of Web Masters and Designers (IAWMD) for the design of his websites www.Marquesv.com, www, ArtsInAmerica.com and www.ArtPressRelease.com. The IAWMD is an association of web professionals with members in more than 130 countries. He currently markets his own Figurative paintings, sculptures and photography on over 30+ Internet auction, business and consumer exchange sites. He was recently selected for the third consecutive year as a contest winner at MAC 21 International Contemporary 2002 Art Fair in Marbella, Spain and was commissioned to design three wine labels for Franciscan Estate Vineyards for theprestigious 2001 Napa Valley Wine Auction.



California Artist Releases Initial Series of Neo-Formalism Sculptures-Sculpture From The Inside Out

California artist Marques Vickers recently released his newest "Neo-Formalism" series of full figurative sculptures. The full body figures trace their roots and influence from a synthesis of the San Francisco Bay Area Figurative movement of the late 1950's and the preceding Abstract Expressionism and nonobjective school of painting.

"Neo-Formalism is a contemporary articulation of the human figure," notes Vickers, "incorporating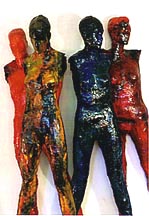 20th century introduced design and form elements including abstract color fields, textile and fiber materials and industrial polyurethane resigns. This altered three-dimensional visage is a fusion of: 1) Constructing the figurative model from an inward-outward perspective as opposed to the lost wax casting method of exterior mold-interior pour and 2) Integrating abstractive color field principles to accentuate skin depth, muscle tone and the inherent tensions of figure shadowing."

The Neo-Formalism sculptures will be available through art gallery, upscale furniture and reseller outlets worldwide with updated inventory available for viewing through Vickers principle website at MarquesV.com. Dealer and representation inquiries are welcomed by the artist.

"The finished objective is a full human figure lacking a traditional smooth skin finish and pigment coloration, yet still maintaining recognizable features. The industrial resin surface casting makes the finished work durable and resilient despite its light weight."

Vickers, 45, of Vallejo, California has exhibited his figurative paintings and sculptures extensively in the San Francisco Bay Area along with several international venues. His 2003 painting "Perspective" was recently selected for inclusion into an international showcase at the MAC21 Contemporary Art Fair in Marbella, Spain. This is the fourth consecutive year that Vickers has had one of his works selected for exhibition in the competition. His work has been commissioned by several American corporations including the US Small Business Administration, eDaddyWarbucks.com and Franciscan Vineyards as well as inclusion into several private contemporary art collections. His biography has been selected in the most recent 2003 "Who's Who in America" and has also been selected for inclusion in the 2004 edition.


Sculpting A Career

An invitation to participate in the 2003 Florence Art Biennale in Italy is a prominent recognition for most artists, but for artist Marques Vickers, it's just one more feather in his hat.

Apart from sculpting, the 45-year-old Vallejo artist has already accomplished much in his career, including creating a travel company and press release distribution service. But there's more on Vickers' palette than a paintbrush these days.

Vickers was selected by a panel of international art historians and critics to represent the United States at the fourth Biennale Internazionale dell'Arte Contemporannea in Florence, Italy. Taking place in December, the event will showcase more than 650 artists from 54 countries.

His biographical profile was also recently selected for the 57th edition of Marquis' "Who's Who in America," scheduled to be released this month.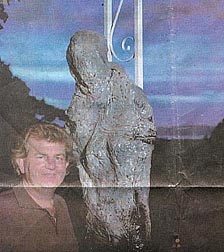 Adding to this, the artist just returned from a three-day trip to the River Walk in San Antonio, Texas, where he photographed the touristic meandering green river and its quaint surroundings. This will be made into a photo CD with distribution in the near future. He is also in the process of compiling two more photo CDs that consist of urban landscapes and his work from 2002, respectively.

He didn't gravitate toward art until his late 30s, when he visited Northern Europe and was inspired towards abstract styles by artist Manuel Neri of Benicia.

Vickers claims that creating art is a fluid process with no endpoint. And although there might be a destination , there is never a point of arrival.

But arriving closer to his destination is what Vickers has done. After "playing the game" (having galleries represent his works), Vickers now wants to break free of this pattern and represent himself. Yet this has been a trying feat.

"When you don't play the game, you don't have the network of contacts and you hit a brick wall pretty quickly. If you try to appease them, your prospects get limited," Vickers said.

Wanting to be well-rounded to increase his prospects of selling his work, Vickers has ventured into other territories. Although he started as a metal sculptor, his work has now expanded to include paintings and photography. he feels the three areas simultaneously feed off one another.

Even his metal work has grown. he now includes totemic figures that can be displayed outdoors.

Unlike most artists who use brokers, curators and galleries as a means to promote their work, Vickers relies on networking, the Internet and his determination.

For gallery owners and major sellers of art, this type of thinking raises a red flag, according to Vickers.

"If an artist sells without them (gallery owners and art sellers), it's construed as competition," Vickers piqued. "The industry is condescending and it's insulting."

As a result, Vickers created a Web site to showcase his work.

"I want to break new ground," Vickers said. "And I want to do this my way via the Internet."

Included in the series of photographs and sculptural images found on his Web site, www.MarquesV.com, are several paintings of faceless one-breasted women under the "nude" subsection.

Though Vickers says he's unaware of his motivation for producing these images, he states that art is created from the gut.

With an ongoing theme of romance and intimacy reflected in his work, the artist doesn't mind that his work can be a bit edgy for some.

"I don't want to take the safe path. If people are uncomfortable, than fine. It forces and challenges people to think," Vickers said.

But don;t confuse Vickers' art with Madonna publicity tactics. Vickers does not create his images for shock value, but rather to provide a reality check.

Considering the various feathers he sports on his hat, Vickers is certain he's on the right path.

"I know ultimately where I'm going. How I get there, I don't know, but I'm confident," Vickers said.


Mentions:
Galleries West Magazine (Canada): "Finders Keepers-Online Art Is Big Business" (September 2003 Issue)
Coral Coast, Australia Gallery: "Marques Vickers, Sculptor at Coral Coast Art Gallery" (March 2002 Issue)
Ascent Magazine: "Cover Art-Marques Vickers" (November 2001 Issue)
American Artist Magazine "Cyber Selling Savvy" (November 2001Issue)
Ascent Magazine "Artist Profile: Marques Vickers" (September 2001Issue)
Woodwest Magazine: "Beyond The Hype Of Internet Expectations" (May/June 2001Issue)
Wired Hearts Magazine: "Sculptural Art of Marques Vickers" (March/April 2001Issue)
Art Business News Magazine: "Vickers Unveils Feng Shui Sculptural Series" (October 2000 Issue)
Diablo Magazine: "Speak of the Devil-Stuff We Like" (June 2000 Issue)

Columns:
Art Calendar: "Your Art Should Be In (Motion) Pictures" (February 2003 Issue)
Art Source Quarterly: "Cashless Transactions" (Winter 2003 Issue)
Art Calendar Magazine: "What's In A (Domain) Name?" (December 2001Issue)
Art Calendar Magazine: "Cashless Transactions Emerging As Art Sales Outlet" (November 2001 Issue)
Art Calendar Magazine: "Protecting Your Images Online" (August 2001 Issue)
Art Calendar Magazine: "Beyond the Hype of Internet Expectations" (June-July 2001 Issue)
Art Calendar Magazine: "Driving Traffic To Your Website" (January 2001 Issue)


Benicia Sculptor Turns Scrap Into Totems
Marques Vickers has noticed that artists can be some of the most resourceful people you'll find. The Benicia sculptor himself has taken advantage of a pile of used Douglas fir pillars a worker left near his studio to build a series of iconic totems.

"It's recycling at its utmost. That's the thing with found objects, "Vickers says. "Fir is one of the harder woods to carve, but you start with what you get."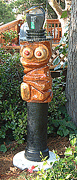 Vickers, who draws inspiration from totems made by tribes in the Pacific Northwest, is also influenced by sculptors such as Constantin Brancusi, who worked with totemic iconography. But Vickers' use of found materials distinguishes his work.

For one thing, Vickers created "Angel of Ill-Repute" (pictured right, 70 inches tall, $3,500) after realizing that some of the objects he salvaged from an Oakland construction site added up to a parking meter. His studio also happens to be next to the Tosco refinery, where he picks up pipe scraps.

Vickers also creates tabletop steel statues (2 1/2 to 3 feet tall) and fountains. The iconic totems (4 to 10 feet tall) are sealed with Dupont IMROM resin, so they work as indoor or outdoor pieces.

Marques Vickers pieces range from $1,000 to $3,000. Three works are on display at the Vorpal Gallery, 393 Grove Street (between Franklin and Gough streets), San Francisco, (415) 397-9200, or you can contact Vickers at (707) 748-1213 for a studio appointment, or visit www.marquesv.com.

December 29th San Francisco Chronicle Home Section


Vorpal Gallery To Showcase Vickers Iconic Totems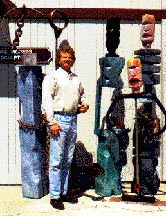 Benicia sculptor and painter Mark Vickers will be one of the featured artists in an upcoming "Visions 2000" exhibition, September 2-October 2, 1999 at the renowned Vorpal Gallery in San Francisco. Three of his Iconic Totem assemblages, "Modern Amazon", "Angel of Ill-Repute" and "The Viagra Resurrection" will be included in the show focusing on nine additional San Francisco Bay Area artists of distinction. Vickers is also currently exhibiting at the Mark West Winery in Healdsburg and in a designer showcase of recyclized art in South San Francisco.

As a sculptor and painter, Vickers, 41, specializes in steel and mixed media sculpture with a smirk of humor, incorporating found finished objects and multicolored patina and painted surfaces. As a painter, his work is concentrated on figurative and abstract expressionism with textured surface backgrounds. The focus of his work remains barbed humor laced with subtle irony and vulnerability, reminiscent of two other Benicia sculptural influences, Robert Arneson and Manuel Neri.

The Vorpal Gallery, now in its 37th year, represents artists from over 30 countries in a series of rotating exhibitions. Internationally acclaimed for its collection of contemporary and modern Masters such as Dutch graphic master M.C. Escher, the Gallery is located at 393 Grove Street in San Francisco's Civic Center area with a second location in the SoHo area in New York City. With over 20,000 square feet of exhibition space, the gallery is open Tuesday-Saturday from 11:00 AM to 6:00 PM.



Businessman Finds New Path To Success As Sculptor
Question: What do you get when you cross a travel agent with a welder? Answer: a sculptor with a great package--like Benicia artist Mark Vickers.

Vickers, a Vallejo native and St. Patrick-St. Vincent High School grad, lived in France, traveled the world and started his own travel agency. He was executive director of the Burbank Chamber of Commerce before eventually returning to his North Bay roots to become--a welder.

The circuitous route to welding came from three years ago, after Vickers saw two large public art objects on display in Sweden.

"I was traveling in Russia and Scandinavia," Vickers explained. "I was very piqued by the public art in Stockholm. It became one of those things I felt I could do and would do."

But Vickers, with a history in business, did not know how to make sculptures so he signed up for a welding class at Solano College. Soon, the sparks were flying.

"Basically it was all trial and error," he said. "Most people are spectators when it comes to acting out their dreams but I am more pragmatic than that. I didn't even finish the welding class but I

learned the basic mechanics of welding."

That was all he needed to locate a welding unit and start building "assemblages." Vickers, who uses sheer will to achieve his goals, likes to explode common myths about art and artists.

"One myth is that you are born as an artist," he said. "Not so. You have to work out your styles and make a thousand mistakes before something works anesthetically."

Although his father was, indeed, an artist, Vickers claims to have inherited none of his dad's artistic talent.

"Frankly, I don't think any of it genetically transferred," Vickers said. "It was not my particular gift. If you look at our work, you'd hardly know we were from the same genes." Thanks to a pragmatic business sense, Vickers said he already had money to bankroll himself as a sculptor "instead playing the role of a starving artist."

"Even so, you don't sell work right away," he said. "It's not a guaranteed source of income. Something like one percent of artists live off their work."

Vickers has been busy in those three years since Stockholm. He's taken up painting, too. He said his paintings are influenced by artists like Mark Rothko and abstract impressionists of the 1950's.

During the day, he creates his assemblages at a Benicia Industrial Park studio with a view of the mothball fleet. Later, he dons his marketing cap and begins making those essential calls to hawk his wares.

"Another myth about art, and why a lot of artists stay undiscovered, is that it's a business and you have to invest your time into selling," Vickers explained. "Most artists are not clued into that. I make 20 to 30 calls a day-to interior decorators, galleries and wineries."

Tenacity does seem to pay off. Vickers recently landed a one-man show of his "Iconic Totems" at the Mark West Winery in Forestville.

"If you build a better mousetrap, you've got to make them aware of it," he said. "This show was part of extensive follow-up and finally securing the venue."

Another Vickerism on art is that gallery owners actually sell artists' work. Don't count on it. "Artists rely on galleries to market their work but gallery owners are just retailers," Vickers said. "There are good and mediocre ones. Most gallery owners are mediocre. They aren't making those 20 to 30 phone calls a day and the artists can't understand why they don't sell. You must stimulate demand."

It all boils down to obsession, he said. Real artists have it and are driven to do it --whatever it is.

Vickers works on several pieces at once, creating assemblages out of discarded car parts, wood and paint -- whatever tickles his fancy. He then seals the entire piece in a DuPont clear coat resin, making the sculpture available for outdoor or indoor use.

Still new to the art scene, Vickers is nonetheless in it for the long haul, building his artist resume from art exhibits throughout the country. He still runs a tour company and operates a screen-printing business to help bankroll his art.

Yet, even with his savvy business sense, there's still an element that will forever stay out of his control.

"The thing about fortune and success in a creative enterprise is that it often comes as a fluke," he said. "It's timing, really, and you can chase the idea of making it via those shows, but more often than not when people do see your work, it's when you least expect it."

Vickers' Iconic totems will be on display throughout the summer and fall season. Mark West Winery is located at 7010 Trenton-Healdsburg Rd. in Forestville.


Local Artist Makes Up For Lost Time
Native Vallejoan Mark Vickers, 41, didn't start out being an artist.

Yet in the two short years during since he turned his attention to art, he has made some remarkable strides.

His sculpture was acknowledged in the September issue of the nationally distributed interior design trade publication, Interiors and Sources Magazine, and two of his pieces-one sculpture and one painting-are part of the Arts Benicia Exhibit in the Arsenal Building beginning this weekend and running for about a month.

Having come from more of a business than "a traditional art background, per se," Vickers,

who runs two other companies and teaches business, finance, marketing and law in addition to his artistic endeavors, was visiting Stockholm, St. Petersburg and Helsinki two years ago, when he discovered that he "was drawn to the steel construction and sculpture." Upon his return, he decided to try his hand at it, and enjoyed it.

"What I was doing well received," Vickers said. "I began to refine my technique and devote more and more time to it. It has become a great passion."

Opening his own studio in Benicia in June of this year, Vickers specializes "primarily in abstract, figurative sculpture made of steel and mixed media, incorporating found finished objects and multicolored patina surfaces, covering various themes."

He works with decorators to "create a certain look" for commercial or residential interiors or contracts to create larger, outdoor pieces for gardens or public places.

While more artists specialize in one medium or another, for example, "most painters don't cross over into sculpting and vice versa," Vickers does both. "I find both equally valuable mediums," he said.

Vickers' ultimate objective is to have his work exhibited in galleries all over the world.

"I would like to be one of the art icons of the new millennium," he said half jokingly, "But there is a long line there. But if you have something to say, and I do, then why not."

In the mean while, Vickers is searching for his own "signature style," and believes that the new series he's working on; a mixed media assemblage sculpture using steel and wood, may wind up being just the thing.

As with most artists, Vickers said his work is "always evolving", and it's progress is available for review by members of the design trade industry, set designers and collectors by appointment, in his studio in the California Industrial Complex, 3840 Industrial Way, Suite B in Benicia.

"The work often speaks more eloquently than anything I can say, "Vickers said.


Selling Artwork on the Internet Publication Released
A timely e-publication entitled "Selling Art On The Internet" was released by the Marquis Publishing Company (ISBN #0-9706530-0-X) this week targeted towards the visual arts community. Authored by California artist Marques Vickers, the e-book addresses relevant topics including website design, generating website traffic, cultivating media exposure, "paying for clicks" , merchant affiliate programs, self publishing artwork, virtual and portfolio galleries and art auction sites.

The 58 page publication is oriented towards the independent visual artist and small art galleries representing a diversity of mediums. "As selling on the Internet becomes a more accepted distribution outlet for artwork,"

notes author Marques Vickers, "a new sense of empowerment is evolving for visual artists in their relationships with galleries, clients and the traditional institutional elements of the art world."

Formats for the e-publication distributed on compact disc are available in Microsoft Word, Adobe Portable File Document, Appleworks and ASCII text software. The published retail price is $10.95 USD, $14 CAN and £8 UK. Copies can be ordered directly through the Marquis Publications website at www.ArtsInAmerica.com and through a growing number of Internet e-publication retail publication distribution sites.

"The whole process of Internet exposure and direct sales for visual artists' is an infant industry that has lagged behind other retail segments," observes Vickers. "Substantial opportunities exist for Internet savvy artists and galleries. However, for most segments of the artistic community, the process of establishing an initial presence in cyberspace is confounding as there exist few proven guidelines for navigation. The Internet will permanently and ultimately alter the channels in which visual art is distributed and sold, but the restructuring process will be transitional and not immediate. Unrealistic expectations and an impatience for financially profitable business models will doom many of the initial art oriented e-commerce commercial sites, but opportunity has never been more prolific for entrepreneurial artists."

Vickers, who is conducting a series of San Francisco based seminars for visual artists in conjunction with the US Small Business Administration, currently markets his own Figurative paintings and sculptures on over 30+ Internet auction, B2C, B2B and business exchange sites. He was recently selected as one of twenty international artists to exhibit at the MAC 21 International Contemporary Art Fair in Marbella, Spain, July 19-24, 2000 (www.mac21.com). The annual fair is the largest showcase of contemporary international artwork in Spain featuring some of Europe's most renowned galleries and art organizations. He was also selected as one of two Americans for the European Art Channel EXPOART 2000 exhibition based in Cologne, Germany (www.eurochannel.de). He is finalizing plans to initiate a January 2001 launch of an art industry monthly ezine to develop a further dialogue on marketing visual art in cyberspace.



Two Big Sales For Local Artist Vickers

Two sculptures by local artist, Marques Vickers, have been purchased by the Small Business Administration, and Cisco Systems of the new Entrepreneur Center in San Jose.

"They were interested in a steel piece they had seen at Marquis Gallery, and called to find out about it," Vickers said.

The Marquis Gallery is Vickers' virtual gallery on the web, displaying and marketing his work and that of Wayne Kohler.

After he learned more about the clients, the purpose and environment where the art would be placed, he convinced the buyers to make a different selection from his series of large, multi-media sculptures.



Vickers does not fill the artist stereotype. Although his father was an artist, and art teacher, "I wasn't interested in it when I was young. I was exposed to art, but it must have been at a subconscious level," he said.

Business interested him more. At age 24 Vickers was hired as Executive Director of the Burbank Chamber of Commerce and later started several businesses of his own, including Marquis Tours, and is releasing an e-book called "Selling Art On The Internet", in November.

On a trip to Scandinavia in 1996, his journey into the art world began. "As I traveled through Finland, I was impressed with the art, especially the metal and wood pieces. I thought, I could do this." Marques said.

He returned home to take a welding class taught by David Nourot (brother of Master Glassblower Michael Nourot of Benicia) at Solano Community College.

"I didn't even finish the class. As soon as I learned the basic elements of the craft, I began to work on the pieces that came to mind," he said. His sculptural work, designed to be displayed indoors, or out, is generally made of wood and steel, with a color infusion of acrylic blended with resin. But in some works, he uses plaster and other materials.

"It became an obsession in a way," Vickers said, "and I was fortunate enough to gain some recognition right away."

His work was chosen to be exhibited at the MAC21 International Contemporary Art Fair in Marbella, Spain and at the European Art Channel EXPOART 2000 and exhibition.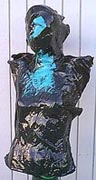 "Selling art is like an affirmation of what you've done," he said, "And a confirmation that it is bigger than you (oneself)."

"I'm actually doing more painting than sculpting now, but I work on a number of works at once, " Vickers said.

One of his early themes was Totems. "More Spirit Than Flesh", is the "Iconic Totem assemblage" that was chosen for the Entrepreneur Center.

The Center is built in the bottom two floors of a bank building. It is a one stop shopping for small business owners, or entrepreneurs who want to start a business," Lauren Cooney, Entrepreneur Center Outreach Coordinator said.

"Founded cooperatively by the SBA, and Cisco Systems, the San Jose center is the first technology oriented small business center in the country," Darlene McKennon, spokesperson said.

Designers make a conscious effort to humanize the environment by replicating the mercantile atmosphere of a "Main Street USA" in the foyer," Vickers said.

The Small Business Development Center, Service Corps of Retired Executives (SCORE), Small Business Agency, and Center for International Trade Development, and Management Training Office are among the services housed in small "shops" off of the lobby.

Vickers' human torsos and totem art bring a humanistic touch to a setting where about 12 Cisco Systems flat screened monitors and computer/Internet work stations are displayed.

"Introspection and reflection are an important part of being successful in business," Vickers said, "In the computer environment of hyperspeed, the use of neutrals like black with blue accents and the teal face, has a calming effect."

"The Totem is full of symbolism," Vickers said, "Totems, were originated by Indian tribes of the Pacific Northwest, and are humanistic symbols."

It is something which rises vertically, converting spirituality...it makes the spirit world more concrete," he said, "and the blue tones connote serenity."

The practice of Feng Shui has captured Vickers' imagination. He created a series of sculptures in the nine themes of the Bagua Map. A female torso entitled, "Career" is 8th on the map he said. it was also chosen for the Center.

His latest interest is dance movements, and Vickers is working with Gloria Ferrer (Spanish Champagne lines) with Spanish dancers.



Vickers Honored at International Art Fair

Benicia, California artist Marques Vickers was recently selected as one of twenty international artists to have his paintings digitally printed out for exhibition at the MAC 21 International Contemporary Art Fair in Marbella, Spain, July 19-24, 2000. The annual fair is the largest showcase of contemporary international artwork in Spain featuring some of Europe's most renowned galleries and art organizations.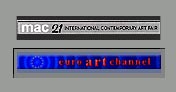 Vicker's selected images were drawn from his recent Millennium selection of "Women in Abandon" series featuring transitional dance movements. Vickers' work has evolved towards a liberated expression of Figurative abstraction. Drawing compositional inspiration from European abstractionists Concha Benedito and Luciano Castelli, Vickers' female forms capture expansive dance positions representing transitional passages of movement. The fluidity of these transitions are reflected in the variating color combinations, textured surfaces and sweeping brushstroke techniques. The works are also available as limited Giclee editions of 100, signed and numbered by the artist.

A native of Vallejo, Vickers, 42 is a 1979 graduate of Azusa Pacific University and has completed post-graduate work in Dijon, France. He is a member of the International Sculptural Center organization in Washington DC and the Pacific Rim Sculptors Group based in San Francisco. Vickers has been represented in the San Francisco Bay Area by the highly regarded Vorpal Gallery in San Francisco. He has shown his artwork extensively throughout the San Francisco Bay Area including recent exhibitions at the Gloria Ferrer and Mark West Wineries and various points eastward.

His work has been profiled nationally in Art Business News, Interiors and Sources, Diablo and Left Coast Art magazines. Regionally, he has been profiled in the San Francisco Chronicle, Contra Costa Times, Napa Valley Register, Vallejo Times Herald, Benicia Herald and by the ABC, NBC, CBS and FOX affiliate television stations. His work is part of the corporate collections of the Phoenix Rehabilitation Programs, Inc. of Concord, California, United States Consulate in Warsaw, Poland, The Farrington Design Group of Atlanta, Georgia, RPD Properties of Century City, California, Graphic Ambitions of San Antonio, Texas and the New England Christian Media Ministries.

Mentions:
Interior and Sources Magazine (September 1998 Issue)
Various Publications: "Visual Artist Lauches Website As An Alternative To Traditional Art Gallery Distribution" (December 1999)
Various Publications "Corporate Buyer Snail and E-Mail Lists Available to Individual Artists and Galleries" (October 1999)
Various Publications: "Vickers Introduces Iconic Totem Sculptures" (July 1999)