AVAILABLE FOR SALE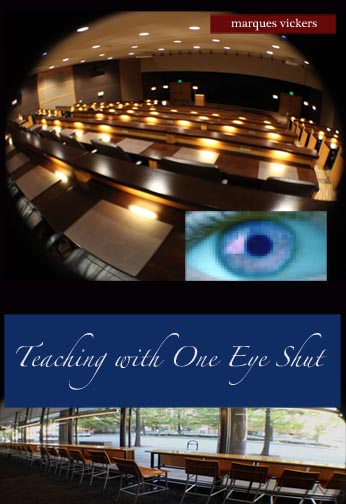 "TEACHING WITH ONE EYE SHUT: The Catholic High School Memoirs of Instructor Michael McCaffrey"
VOLUME ONE


Michael McCaffrey has lost his teaching idealism, but not pragmatism towards his profession. "Teaching with One Eye Shut" escorts you into the classroom, faculty room sanctuary and campus grounds of St. Elizabeth-St. Ignacious (SESI), a northern California Catholic high School. Your host, McCaffrey is an eight-year business instructor beyond the burnout stage and uncertain as to his future in the profession. His turmoil carries over into his personal life and relationships.

McCaffrey shares his clear-eyed observations about classroom instruction, discipline, peers and the bureaucracy accompanying teaching. He dismisses imposed school administration artificial team-building tactics. For him, teachers are individuals expressing their point of view on subject matters as they visualize it. Peer's advice and Principals are of marginal value. His evaluations are often cutting and dismissive. They are balanced by periodic inspiring and surprising heroics emerging from unlikely sources. McCaffrey seemingly has an unflinching opinion about everyone and especially himself.

His students can be a distracted and devouring audience, but he is genuinely appreciated. He introduces the reader into the authentic and sometimes erratic nature of classroom lecture and discussion. His teaching subjects include technology, marketing and law. His students' responses address more poignant issues including racism, home life and their futures beyond schooling. The deeper exchanges are often conducted between classes or emerge amidst casual conversations and daily interactions.

McCaffrey addresses timely issues over the success and shortcomings of contemporary education. He concludes that society comfortably maintains misplaced priorities and ignorance towards education and its practitioners. He takes issue with uninvolved parents who drop their children off like dirty laundry and expect a private institution to cleanse them of their bad habits while educating them.

He maintains that Catholic education is distinct and different from public schools. His conclusion is based on expected behavioral accountability and reinforced discipline, rather than superior personal, facilities and educational techniques. A school's objective remains to stimulate a graduating class of lifelong learners. This lofty goal is tested daily by certain under-achieving, troubled and unmotivated students, neurotic faculty members and hamstrung by trifling misdirected rules. McCaffrey notes that victories surface when his contemporaries enable students to navigate the tenuous labyrinth of adolescence and learning.

His varied observations encompass teacher liability, absence policies, and career burnout, objective grading, classroom discipline, school fundraising, compensation, athletic programs, peer gossip and pranks, equipment deficiencies, and dress codes. McCaffrey is SESI's acknowledged faculty satirist who zealously guards his private time absent of extra-curricular supervisions. He is never a perennial candidate for Teacher of the Year honors.

His cast of instructional intimates and foils include basketball coach and confident Rich Ringer, siren Suzzi Issacs, milquetoast Dennis Greeley, incompetent Alex Orrigo, misdirected Tim Lovelace, mumbling Principal Brother Moody and a colorful parade of diverse and eclectic personalities. A variety of candid and favorite students are introduced with the irrepressible Ralphie Houwser heading the list.

McCaffrey feels trapped by his inability to move forward with his life. A year ending interaction with one of his peers offers him hope. Will a Parisian rendezvous on Bastille Day become his ultimate liberation from professional and personal stagnation?

"Teaching with One Eye Shut" addresses the fragile and volatile role of mentors and educators. McCaffrey's memoir offers a realistic and humorous view of the realities behind high school instructing, spiced by his periodic exaggerations.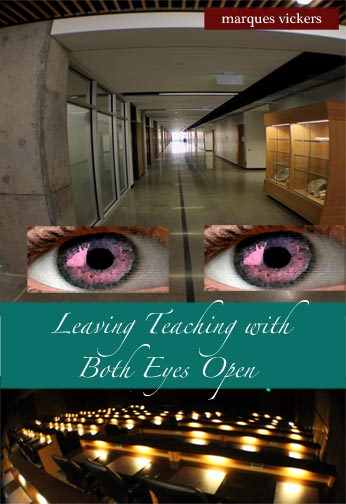 Leaving Teaching With Both Eyes Open, VOLUME TWO


Michael McCaffrey continues to wrestle with his own alienation and detachment from the teaching profession, direction of his life and personal relationships. He is compelled to deal with unexpected loss and abandonment on multiple levels. Throughout his ordeals, he maintains his sense of humor and perspective. His setbacks, distractions and inertia make forward progress challenging. He observes the similar difficulty and indecisiveness experienced by two of his former university classmates.

His intentioned departure from teaching following his ninth year does not materialize. His ambition towards cultivating a stable relationship evaporates for reasons initially uncertain to him. He has difficulty coming to terms with his fragmented life that only periodically offers glimpses of hope and clarity. An encounter with a former high school girlfriend prompts him to consider what might have happened had he never left his hometown. Another classmate, a self-professed business success, lectures one of classes and illustrates the contrast between McCaffrey's present stagnation and a vocational path he abandoned early in his career.

As his narrative enters into his thirteenth year of teaching, his observations and caustic opinions become more pronounced and unwelcome. He's aware of the estrangement with his current faculty peers. As his closet confidants leave, he realizes St. Elizabeth-St. Ignacious High School has changed irrevocably. He is not an integral part of the shift and has become professionally expendable.

During his tenth teaching year, a new Principal, Brother Morton Brickell replaces the departed Brother (Mumbles) Moody. McCaffrey compares Moody to a flute and Brickell to a brass trumpet, often loudly overstating the obvious. Brickell's own tenure and influence becomes abbreviated due to a change in school management. During the summer following his eleventh year, the financial allure of shifting back to corporate employment coupled by a seemingly healthy relationship nearly changes his fate. Despite the promising prospects, McCaffrey is destined to continue teaching and remaining alone.

Brickell's replacement, Sister (Stoneface) Stanley clashes with McCaffrey her initial year following scrutiny of his teaching and religious commitment. The frigidity of their interactions prompts him to question how long she will tolerate his continued employment.

McCaffrey continues his satirical exchanges and pranks with faculty foils and adds additional victims. He charts the meteoric influential rise of the maintenance duo of Sid and Barney that culminates in a faculty Christmas party implosion. He assists a faculty peer in formatting teaching credential assignments that concludes with him doubting the substantive value of academic professional training.

McCaffrey documents his lively and playful interactions with his students. Tense moments intervene. He is confronted by a failing student that nearly erupts into a physical altercation. He must also calm the religious proselytizing from one of his zealous students seeking to convert him. He attempts to keep his lectures varied and relevant despite his flagging enthusiasm. One of his classroom discussions addresses the increasingly escalating violence in his hometown when one of his students nearly becomes a casualty from a drive-by shooting.

A former favorite student returns on campus basking in an acclaim that eluded him while attending SESI. Another returns as a polished and attractive woman completing a teaching internship and introduces complications into McCaffrey's relationship void and loneliness.



Marquis Publishing is a publisher of paperback and electronic books.


MARQUIS PUBLISHING
California, USA
1 (707) 712-8062

marques@artsinamerica.com